Last week, hundreds were killed by Boko Haram militants in the town of Baga in the north-eastern state of Borno in Nigeria. Some reports say that it is one of this terror group's worst massacres to date and that local authorities have given up counting the bodies left lying on the streets. The Nigerian government is supposedly downplaying the attack and the number of casualties. For a recent report in the Guardian,
Click Here
.
This was happening in Nigeria at the same time as the terrorist attacks in Paris. Yet, the lack of media coverage and the world's reaction to the Nigerian nightmare has been quite muted. Some are questioning why 12 killings in Paris are more condemnable than 1200 Africans killed in Nigeria. What makes one massacre more newsworthy than another?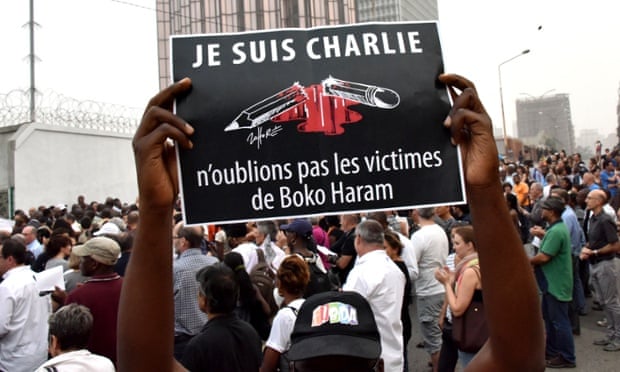 The placard says:
I AM CHARLIE.
Let's not forget the victims of Boko Haram"
Click
Here
for a report from The Guardian and
Here
for the BBC report of the recent slaughter in Nigeria, as Boko Haram continues its attacks with impunity.